What our clients say


Laura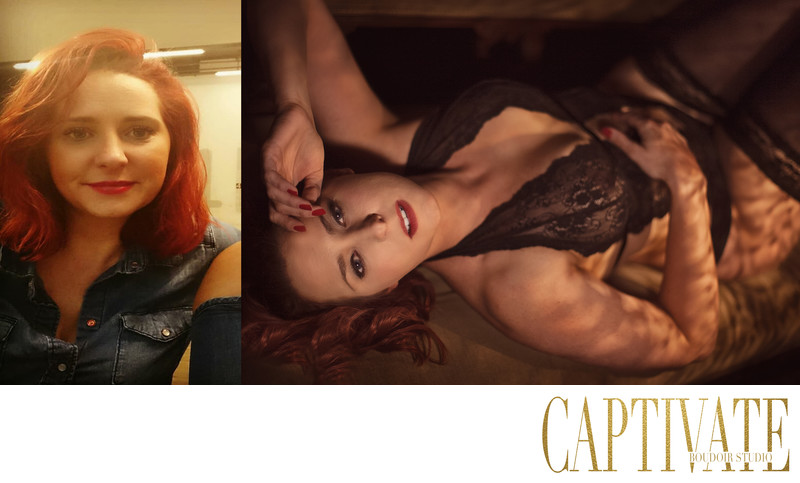 Just wanted to say a huge thank you for my boudoir photoshoot.
I was equally nervous and excited when I booked but I really wanted to do something different and exciting just for me. I couldn't think of anything that wasn't too crazy, (bungee jumping/marathons arent really me) until a friend showed me her photos; she looked absolutely incredible!
So along I rock to your fabulous studio, excited at the prospect of having my hair and make-up done, less excited about dressing up in front of someone new. How wrong could I be! I felt instantly comfy, you were just so lovely, I relaxed quickly and I actually started to feel really excited about the shoot!
Now, I'm no model. I'm curvy, i have cellulite on my bum and a few tiger marks however, when I saw my photos, I actually felt proud of my imperfections. For the first time in a long time I felt proud of my body! Somehow, you have capture the very things I hate about my body and enabled me to see those 'flaws' in an entirely new and positive light!
I can not tell you (not to get too gushy) how much this experienced has boosted my confidence - the photos I'll treasure forever!
I really can't articulate how thankful I am, I'm so in love with them, so I just wanted to say thanks so much for not only the shoot, but for the confidence boost and for being so lovely!
See you in a year or two for the next one!
Huge, huge thanks.
---
Serena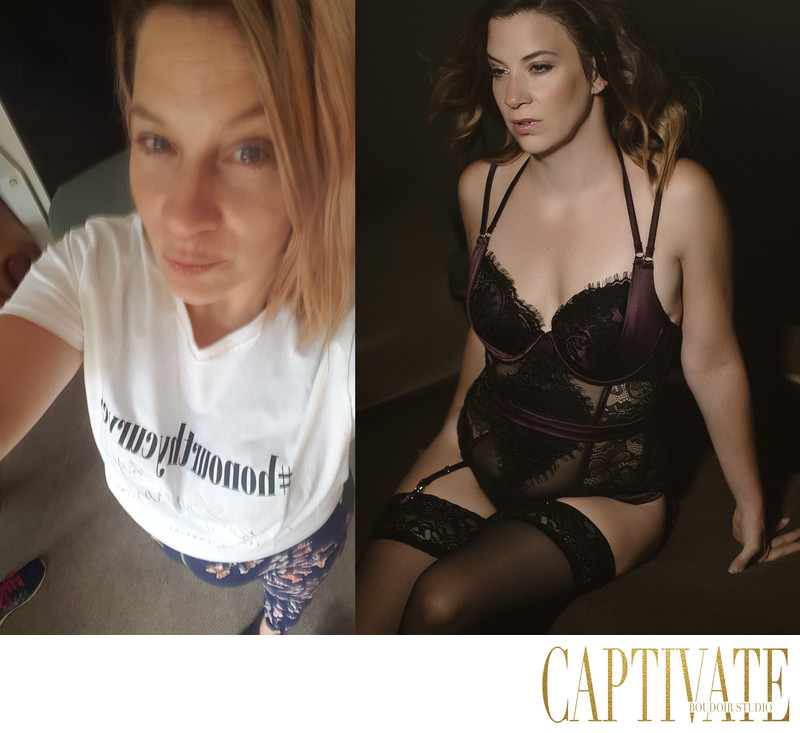 On Saturday I hd a boudoir photo shoot with the lovely Chantal Storrs-Barbor at her studio in Surrey.
On arriving I was greeted with a choice of drinks including prosecco and taken through to the studio.
The studio was amazing with lots of props and an area for having your makeup and hair done by the in house pamper team, which then once all set turned into an apt changing area.
Chantal chatted with me about what I wanted from the shoot. And took some behind the scenes photos whist I was being pampered.
We then got to work on my chosen outfits. ( I took a lot of product with me as was not sure what or how much I would need )
My first outfit was one of my personal favourites and a product from our last catalogue. I was nervous, being a mum of 5 children and running 2 businesses I rarely get time to breathe, let alone take quality time out to feel empowered and sexy, but Chantal soon made me feel like this was my job and before I knew it I was rolling around on white sheets and posing like I had been doing it for years.
All different elements were used to create the images, I particularly enjoyed the wind machine and loved the idea of using fairy lights to create a beautiful light.
The photo shoot lasted around 3hrs but felt like moments as I was having such fun.
Chantal gave me sneak peaks into some of the images and I was pleasantly surprised by what I was seeing.
I left the studio beaming from ear to ear and couldn't wait to get home and tell my hubby and friends all about my time at Captivate Boudoir Studio.
---
KAT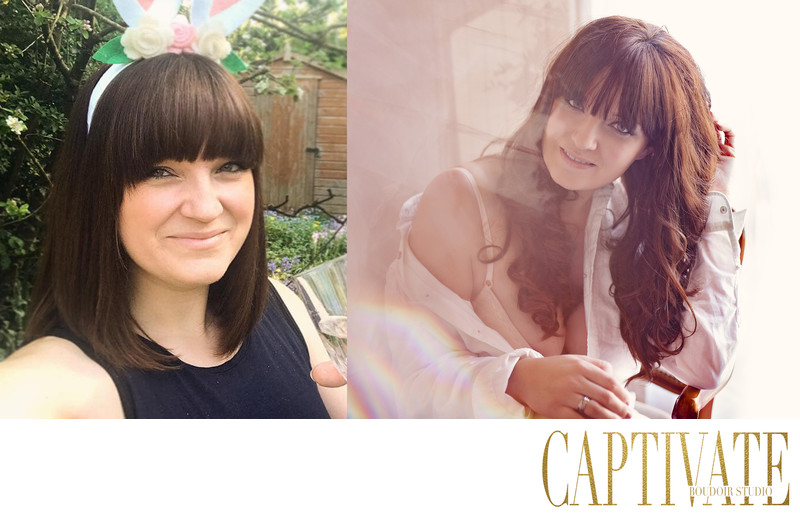 Can't recommend Chantal at CAPTIVATE highly enough. The whole session was so much fun, so relaxed, zero pressure, and I felt incredible from start to finish. And the end result? Wow. The photos are out of this world. I can't believe it's actually me! I wanted a more "reserved" session, just a little bit cheeky, but very feminine and flirty. Chantal gave me precisely what I asked for, and I felt I was in control of the session throughout. Chantal knows exactly how to make you feel relaxed. She's such a genuine person, and it's obvious how much she loves her work. I can't wait to come back and have another session! Thanks, Chantal. You're amazing!
LEILA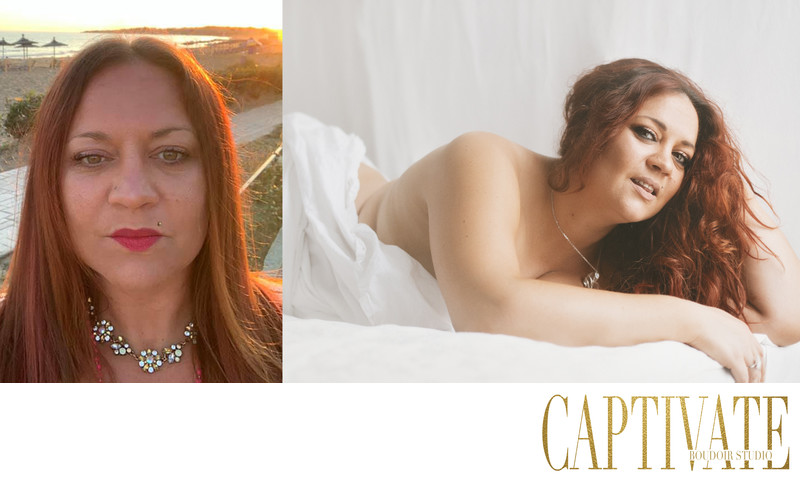 Wow, what can I say!! Thank you Chantal Storrs-Barbor for such an absolutely amazing boudoir shoot. I literally felt a million dollars from start to finish. Was spoilt with a mini bottle of Prosecco! . So relaxed and comfortable all the way through, you really are a truly talented lady! I can't even put into words how over the moon I am right now, and I've only seen 9 of the pictures! I can't wait to see the rest. Thank you thank you thank you a million times. If you haven't booked in for this yet, you NEED to! What an amazing boost! x
JOSETTE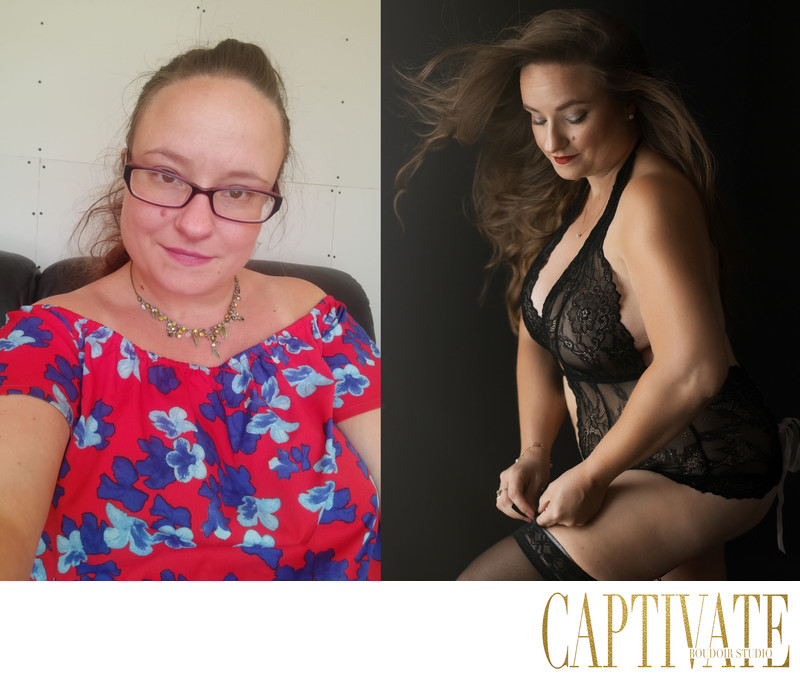 Images Copyright 2020 | Surrey Boudoir Photographer
Ginger Cottage, Barossa Road, Camberley, Surrey, GU15 4JE Tel: 07552 129418
e: hello@captivatethestudio.co.uk web: www.captivatethestudio.co.uk
Surrey's Premier Boudoir Studio